The Early Pleistocene Mimomys hordijki (Arvicolinae, Rodentia) from Europe and the origin of modern nearctic sagebrush voles (Lemmiscus)
Many ancient voles (mainly grass eating small rodents, relatives of hamsters) are known for paleontologists in form of isolated check teeth of specific morphology. Unlike most nowadays living voles, many fossil, primitive forms of voles had roots in their check teeth. One of these ancient forms is known as the subgenus Cromeromys of the genus Mimomys. The teeth of Cromeromys voles have been found in Europe, north-eastern Siberia, and in Canada and United States in geological deposits dated back to 2.5 million years ago (Late Pliocene) in Siberia, and to 2 to 1 million years ago (Early Pleistocene) in North America. In this article we describe new finds of Mimomys (Cromeromys) hordijki teeth from Early Pleistocene of Holland (Europe) with the age between 2.6 and 1.8 million years ago. This is the most abundant fossil remains of Cromeromys ever described.
The close look at the changes of cheek teeth of ancient Cromeromys voles in Eurasia and North America permitted us a hypothesis that these fossil voles could be ancestors of living sagebrush vole (genus Lemmiscus) inhabiting grass prairies of North America. The sagebrush voles have cheek teeth that continuously grow throughout the life of these rodents and never form roots. The origin of sagebrush voles was always enigmatic. Because of similarity of teeth, they were previously thought to be relatives of steppe lemmings or lagurines of the Old World. But now, the new evidence may support the evolution of Lemmiscus directly from Eurasian Mimomys and more close genetic ties to living common voles of the genus Microtus.
Mimomys hordijki (Arvicolinae, Rodentia) del Pleistoceno inferior de Europa y el origen de Lemmiscus
En los sedimentos del Pleistoceno inferior (Gelasiense y 'Calabriense') del noreste de Siberia y de la parte superior del Pleistoceno inferior ('Calabriense') de Canadá y Estados Unidos aparecen topillos primitivos, con dientes yugales rizodontos, atribuidos al subgénero Cromeromys del género Mimomys. Los topillos rizodontos holárticos del Plioceno superior y Pleistoceno inferior del grupo de Mimomys (Cromeromys), incluyendo la especie europea aquí redescrita Mimomys (C.) hordijki, muestran afinidades con los modernos Lemmiscus y proporcionan pistas significativas para una hipótesis consistente sobre el origen del género. Durante mucho tiempo se pensó que los roedores arvicolinos neárticos modernos del género Lemmiscus eran un grupo íntimamente relacionado con los lemmings de estepa paleárticos de la tribu Lagurini. Sin embargo, numerosas evidencias morfológicas, paleontológicas y genéticas apoyan su atribución a la tribu Arvicolini, como un clado hermano de los modernos Microtus. Los Arvicolini tienen molares arrizodontos y derivarían, supuestamente, de los Mimomys rizodontos del Plioceno.
PALABRAS CLAVE: Arvicolinae; Mimomys; Cromeromys; Lemmiscus; Plioceno-Pleistoceno; Eurasia; Norteamérica
Traducción: Miguel Company
Mimomys hordijki (Arvicolinae, Rodentia) du Pléistocène inférieur d'Europe et l'origine des campagnols des armoises néarctiques modernes (Lemmiscus)
Les campagnols fossiles possédant des racines aux dents jugales et assignés au sous-genre Cromeromys du genre Mimomys sont connus dans le registre fossile pléistocène inférieur (Gelasien et 'Calabrien') du Nord-Est de la Sibérie et dans le registre fossile du pléistocène inférieur tardif ('Calabrien') du Canada et des Etats-Unis
Les campagnols à racines du Pliocène supérieur et Pléistocène inférieur appartenant au groupe de Mimomys (Cromeromys), incluant le Mimomys (C.) hordijki d'Europe (redécrit ici), montrent des affinités avec le Lemmiscus moderne et nous fournissent des indices pour une hypothèse robuste de l'origine de ce genre. Les rongeurs arvicolini néarctiques modernes Lemmiscus (Campagnol des armoises) on été considérés pendant longtemps comme un groupe frère proche des lemmings des steppes paléarctiques de la tribu Lagurini. Toutefois de nombreuses preuves morphologiques, paléontologiques et génétiques suggèrent leur attribution à la tribu Arvicolini, en tant que clade frère du Microtus moderne. Les arvicolini ont des molaires sans racines et leur origine semble venir du rongeur rhizodonte pliocène Mimomys.
Mots clés: Arvicolinae; Mimomys; Cromeromys; Lemmiscus; Pliocène-Pléistocène; Eurasie; Amérique du nord
Translator: Olivier Maridet
Das frühpleistozäne Mimomys hordijki (Arvicolinae, Rodentia) aus Europa und der Ursprung der modernen neoarktischen Salbeiwühlmäuse (Lemmiscus)
Frühe Wühlmäuse mit verwurzelten Backenzähnen, die der Subgattung Cromeromys der Gattung Miomys zugeschrieben werden, sind aus dem Fossilbericht des frühem Pleistozäns (Gelasium und 'Calabrium') von Nordost-Sibirien und aus dem frühen Pleistozän ('Calabrium') von Kanada und der USA bekannt. Die spätpliozänen bis frühpleistozänen holarktischen Wühlmäuse mit Wurzeln der Mimomys (Cromeromys) Gruppe, die das europäische Mimomys (C.) hordijki beinhalten (das hier neubeschrieben wird), weisen Ähnlichkeiten mit dem modernen Lemmiscus auf und liefern Hinweise auf eine robuste Hyphothese was den Ursprung dieser Gattung betrifft. Die modernen nearktischen arvicolinen Nagetiere Lemmiscus (Salbeiwühlmäuse) wurden lange als eine nahe verwandte Schwestergruppe der palearktischen Steppenlemminge vom Tribus der Lagurini angesehen. Allerdings legen weitreichende morphologische, paläontologische und genetische Evidenzen eine Zuteilung zum Tribus Arvicolini nahe und dort als Schwestergruppe des modernen Microtus. Arvicolinen haben wurzellose Molaren und es wird davon ausgegangen dass sie aus dem pliozänen rhizodonten Mimomys entstanden sind.
SCHLÜSSELWÖRTER: Arvicolinae; Mimomys; Cromeromys; Lemmiscus; Pliozän-Pleistozän; Eurasien; Nordamerika
Translator: Eva Gebauer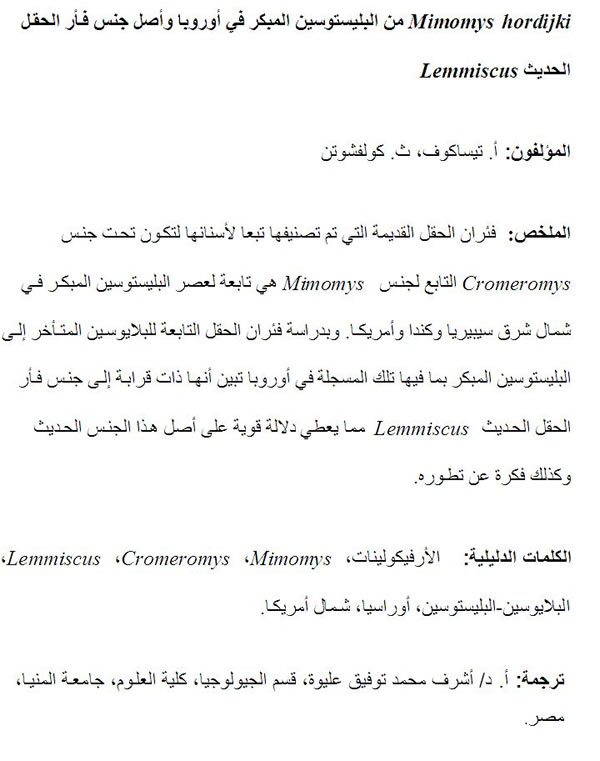 Translator: Ashraf M.T. Elewa
Wczesnoplejstoceński Mimomys hordijki (Arvicolinae, Rodentia) z Europy i pochodzenie dzisiejszych nearktycznych norników Lemmiscus
Kopalne norniki o zębach policzkowych z korzeniami zaliczane do podrodzaju Cromeromys rodzaju Mimomys znane są z wczesnego plejstocenu (gelas i 'kalabrian') północno-wschodniej Syberii i z późnego wczesnego plejstocenu ('kalabrianu') Kanady i Stanów Zjednoczonych. Późno-plioceńskie do wczesno-plejstoceńskich norniki z korzeniami z grupy Mimomys (Cromeromys), w tym (tu redeskryptowany) europejski Mimomys (C.) hordijki, wykazują pokrewieństwa z dzisiejszym Lemmiscus i dają wskazówki odnośnie silnej hipotezy pochodzenia rodzaju. Dzisiejsze nearktyczne norniki Lemmiscus (ang. sagebrush voles) przez długi czas były uważanie za grupę siostrzaną palearktycznego plemienia Lagurini. Jednakże, wystarczające dowody morfologiczne, paleontologiczne i genetyczne sugerują ich przynależność do plemienia Arvicolini, jako grupy siostrzanej dzisiejszego Microtus. Arvicolini nie maja korzeni na trzonowcach, przypuszczalnie więc powstały z plioceńskiego ryzodonta Mimomys.
SŁÓWA KLUCZOWE: Arvicolinae; Mimomys; Cromeromys; Lemmiscus; plio-plejstocen; Eurazja; Ameryka Północna
Translators: Dawid Mazurek and Robert Bronowicz
Mimomys hordijki (Arvicolinae, Rodentia) del Pleistocene inferiore dell'Europa e l'origine del genere neartico attuale Lemmiscus
Le arvicole dai denti radicati appartenenti al genere Mimomys, sottogenere Cromeromys, sono conosciute dal Pleistocene inferiore (Gelasiano e 'Calabriano') della Siberia nordorientale e dal tardo Pleistocene inferiore ('Calabriano') del Canada e degli Stati Uniti. Tra il Pliocene superiore e il Pleistocene inferiore le arvicole olartiche del gruppo Mimomys (Cromeromys), compresa la specie europea Mimomys (C.) hordijki, qui ridescritta, mostrano affinità con il genere attuale Lemmiscus, fornendo in tal modo una robusta ipotesi sull'origine di tale genere. Si è a lungo ritenuto che i roditori arvicolini neartici attuali del genere Lemmiscus rappresentassero un sister group dei lemming delle steppe paleartici della tribù Lagurini. Evidenze morfologiche, paleontologiche e genetiche suggeriscono invece la loro attribuzione alla tribù Arvicolini come sister clade del moderno Microtus. Gli Arvicolini presentano molari non radicati e presumibilmente hanno avuto origine dal genere rizodonte pliocenico Mimomys.
PAROLE CHIAVE: Arvicolinae; Mimomys; Cromeromys; Lemmiscus; Pliocene-Pleistocene; Eurasia; Nord America
Translator: Chiara Angelone