Cricetid rodents from the Pliocene Panaca Formation
southeastern Nevada, USA
Very large samples of cricetid rodent teeth were collected from 12 localities in the Pliocene Panaca Formation in Meadow Valley, southeastern Nevada. The most common cricetids are Mimomys panacaensis, Nevadomys n. gen., and Repomys Mimomys is a genus in arvicolinae subfamily. Arvicolines are high-crowned, grass eating rodents. Partly due to the nature of their diet, they exhibit gradual evolution in their dental morphology through geological time. The arvicolines became abundant about 4.5-5.0 million years ago and have thrived since then. Because of their rapid evolution and wide distribution, they have provided an important source for ordering biochronologic events in late Tertiary terrestrial deposits in Europe and North America. The tooth characters of Mimomys, as well as other cricetid species from the Panaca local fauna, indicate that the Panaca local fauna represents the early Blancan land mammal age (about 4.6-4.9 million years ago).
Roedores cricétidos de la Formación Panaca, Plioceno, sureste de Nevada, EE. UU.
Se estudian amplias muestras de cricétidos procedentes de doce localidades del Plioceno de la Formación Panaca en Meadow Valley, sureste de Nevada. Los cricétidos más comunes entre la fauna de micromamíferos de Panaca son Mimomys panacaensis, Nevadomys n. gen. y Repomys, aunque también están presentes Peromyscus y Onychomys. La microestructura del esmalte de los molares de Nevadomys n. gen. ha sido analizada con microscopio electrónico de barrido. Nevadomys n. gen. desciende probablemente del género norteamericano Paramicrotoscoptes. Los caracteres de estos cricétidos, incluyendo su estadio evolutivo, indican que la fauna local de Panaca corresponde al Blanquense inferior (NALMA).
PALABRAS CLAVE: cricétido, arvicolino, schmelzmuster, Blanquense inferior, NALMA
Traducción: Miguel Company
Les rongeurs cricetidés de Pliocène de la Formation Panaca, Sud-Est du Nevada, USA
D'importants échantillons de cricetidés ont été collectés de douze localités dans le Pliocène de la Formation Panaca dans la Vallée Meadow, Sud-Est du Nevada. Les cricetidés les plus courants dans la faune de petits mammifères de Panaca sont Mimomys panacaensis, Nevadomys n. gen., et Repomys. Peromyscus et Onychomys sont également présents. La microstructure de l'email des molaires de M. panacaensis et Nevadomys n. gen. a été étudiée sous un microscope électronique a balayage. Nevadomys n. gen. a probablement évolué à partir du Paramicrotoscoptes nord américain. Les caractères de ces cricetidés, incluant les stades évolutifs, indiquent que la faune locale Panaca représente un age Blancien inférieur dans l'échelle d'âges des mammifères continentaux.
Mots clés: cricetidés, arvicoliné, schmelzmuster, Blancien inférieur, NALMA
Translator: Olivier Maridet
Wühlerartige Nagetiere der pliozänen Panaca-Formation des südöstlichen Nevada, USA
An zwölf Fundstellen in der pliozänen Panaca-Formation im Meadow Valley im südöstlichen Nevada wurden sehr große Proben von Wühlerartigen geborgen. Die am häufigsten vorkommenden Wühlerartigen der Kleinsäugetierfauna der Panaca-Formation waren Mimomys panacaensis, Nevadomys n. gen., und Repomys. Weitere Fundstücke waren von Peromyscus and Onychomys.
Die Schmelzstruktur der Molaren von M. panacaensis und Nevadomys n. gen. wurden unter dem Rasterelektronenmikroskop untersucht. Nevadomys n. gen. leitet sich wahrscheinlich vom nordamerikanischen Paramicrotoscoptes ab.
Die Eigenschaften dieser Wühlerartigen, einschließlich Ihrer Evolutionsstadien, lassen darauf schließen, dass die Lokalfauna von Panaca der frühen Blancan-Landsäugetier-Stufe entspricht.
SCHLÜSSELWÖRTER: Cricetiden, Arvicolinen, Schmelzmuster, frühes Blancan, NALMA
Translator: Anke Konietzka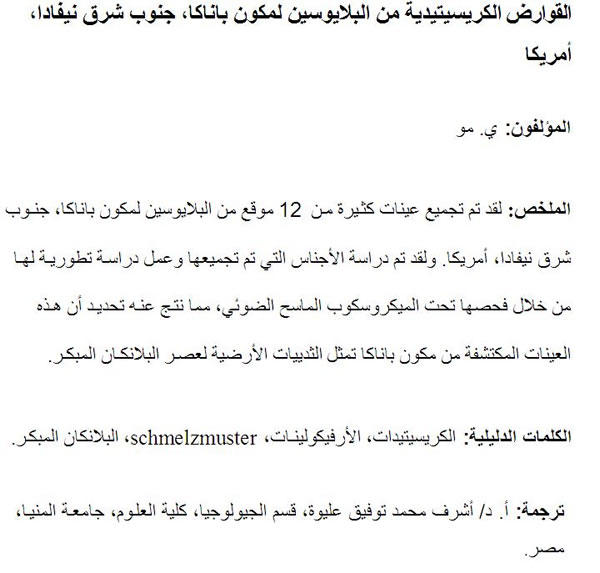 Translator: Ashraf M.T. Elewa
Chomikowate gryzonie z plioceńskiej formacji Panaca, południowo-wschodnia Newada, USA
Duże próbki chomikowatych zostały zebrane na dwunastu stanowiskach plioceńskiej formacji Panaca w Meadow Valley, południowo-wschodnia Newada. Najczęstsze chomiki w małej ssaczej faunie Panaca to Mimomys panacaensis, Nevadomys n. gen. i Repomys. Obecne są też Peromyscus i Onychomys. Mikrostruktura emalii M. panacaensis i Nevadomys n. gen. została zbadana pod SEM. Nevadomys n. gen. pochodzi najprawdopodobniej od północnoamerykańskiego Paramicrotoscoptes. Cechy tych chomików, w tym stopień ewolucyjny, wskazują na to, że lokalna fauna Panaca reprezentuje wczesny Blancan wśród epok ssaków lądowych.
SŁOWA KLUCZOWE: chomiki, norniki, schmelzmuster, wczesny Blancan, NALMA
Translators: Dawid Mazurek, Robert Bronowicz, and Daniel Madzia
Cricetidi della Panaca Fm (Pliocene, Nevada sudorientale, USA)
Numerosissimi reperti di cricetidi sono stati raccolti in 12 località plioceniche (Panaca Fm) del Nevada sudorientale (Meadow Valley). Gli elementi più comuni sono Mimomys panacaensis, Nevadomys n. gen. e Repomys. Sono presenti anche Peromyscus e Onychomys. La microstruttura dello smalto dei molari di M. panacaensis e Nevadomys n. gen. è stata esaminata al microscopio elettronico a scansione. Nevadomys n. gen. deriva probabilmente dal genere nordamericano Paramicrotoscoptes. Le caratteristiche dei cricetidi rinvenuti nella Panaca local fauna permettono di attribuirla al Blancano inferiore.
PAROLE CHIAVE: cricetidi, arvicolini, schmelzmuster, Blancano inferiore, NALMA
Translator: Chiara Angelone