A new species of Cernictis (Mammalia, Carnivora, Mustelidae) from the Late Miocene Bidahochi Formation of Arizona, USA
The carnivore family Mustelidae includes weasels, otters, badgers, and kin. The "weasel-like" grisons of Central and South America and their living and fossil relatives are the galictin mustelids, a group that includes one or two extant Latin American genera, five extinct New World genera, and three or four extinct Old World genera. In this paper, I describe a new species of galictin, and discuss its relationships with living and extinct Old and New World species. The oldest record (about eight million years ago) of galictins may be from China.
Cernictis repenningi, from the late Miocene (about six million years old) of Arizona, USA, is named in honor of Charles Repenning who discovered the type lower jaw during his study of the geology of the Bidahochi Formation.
Una nueva especie de Cernictis (Mammalia, Carnivora, Mustelidae) del Mioceno tardío de la Formación Bidahochi, del estado de Arizona, USA.
Cernictis reppenningi es una nueva especie de carnívoro mustélido del Hemphilliano medio (Mioceno tardío) de la Formación Bidahochi, noreste de Arizona. Cernictis es un inmigrante del Viejo Mundo durante el Mioceno tardío, donde aparentemente está representado por ejemplares inéditos de China. La dentición superior de este material de China indica que Cernictis es un miembro primitivo de la tribu Galictini, que incluye uno o dos géneros actuales neotropical, cinco géneros extintos Nuevo Mundo, y tres o cuatro extintos géneros del Viejo Mundo.
PALABRAS CLAVE: Mioceno; Formación Bidahochi; Hemphilliano; Mustelidae; Cernictis; nueva especie
Traducción: Author
Une nouvelle espèce de Cernictis (Mammalia, Carnivora, Mustelidae) du Miocène supérieur de la formation Bidahochi, de l'Arizona, USA.
Cernictis repenningi est une nouvelle espèce de carnivore mustélidé provenant de l'Hemphillien moyen (Miocène supérieur) de la formation Bidahochi du nord-est de l'Arizona. Cernictis est un immigrant de l'Ancien Monde à la fin du Miocène, où il est apparemment représenté par du matériel non décrit en Chine. La dentition supérieure de ce matériel indique que Cernictis est membre primitif de la tribu Galictini, qui comprend un ou deux genres actuels néotropicaux, cinq genres éteints du Nouveau Monde, et trois ou quatre genres éteints de l'Ancien Monde.
Mots clés: Miocène; Hemphillien; formation Bidahochi; Mustelidae; Cernictis; nouvelle espèce
Translator: Author and Olivier Maridet
Eine neue Art von Cernictis (Mammalia, Carnivora, Mustelidae) aus dem späten Miozän der Bidahochi Formation von Arizona, USA
Cernictis repenningi ist eine neue Art eines karnivoren Musteliden aus dem mittleren Hemphillian (spätes Miozän) der Bidahochi Formation im nordöstlichen Arizona. Cernictis ist ein spätmiozäner Immigrant aus der Alten Welt, wo er offensichtlich durch unbeschriebenes Material aus China vertreten wird. Die Oberkieferbezahnung dieses Materials zeigt, dass Cernictis ein basales Mitglied des Stammes Galictini ist, der ein oder zwei heutige neotropische Gattungen, fünf ausgestorbene Neuweltgattungen und drei ausgestorbene Altweltgattungen beinhaltet.
SCHLÜSSELWÖRTER: Bidahochi Formation; Hemphillian; Mustelidae; Cernictis; neue Art
Translator: Eva Gebauer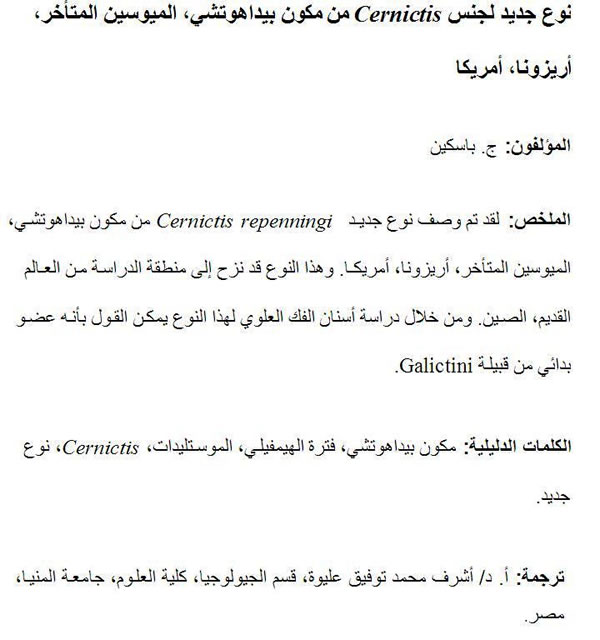 Translator: Ashraf M.T. Elewa
Nowy gatunek rodzaju Cernictis (Mammalia, Carnivora, Mustelidae) z późnego miocenu formacji Bidahochi z Arizony, USA
Cernictis repenningi to nowy gatunek łasicowatego drapieżnego ssaka ze środkowego hemphillian'u (późny miocen) formacji Bidahochi, z północno-wschodniej Arizony. Cernictis należy do późnomioceńskich imigrantów ze Starego Świata, gdzie najwyraźniej reprezentowany jest przez nieopisany materiał z Chin. Górne uzębienie tego materiału wskazuje na to, że Cernictis jest prymitywnym przedstawicielem plemienia Galictini, które obejmuje jeden lub dwa współczesne neotropikalne rodzaje, pięć wymarłych rodzajów Nowego Świata i trzy lub cztery wymarłe rodzaje Starego Świata.
Słowa kluczowe: formacja Bidahochi; Hemphillian; Mustelidae; Cernictis; nowy gatunek
Translators: Dawid Mazurek, Robert Bronowicz, and Daniel Madzia
Una nuova specie di Cernictis (Mammalia, Carnivora, Mustelidae) dal Miocene superiore della Bidahochi Fm, Arizona, USA
Cernictis repenningi è una nuova specie di mustelide dell'Hemphilliano medio (Miocene superiore, Bidahochi Fm, Arizona nordorientale). Cernictis è un immigrante tardo miocenico proveniente dal Vecchio Mondo, dove è rappresentato da materiale cinese ancora non descritto. La dentizione superiore indica che Cernictis è un rappresentante primitivo della tribù dei Galictini, che oggi include uno o due generi neotropicali, cinque generi estinti del Nuovo Mondo e tre o quattro generi estinti del Vecchio Mondo.
PAROLE CHIAVE: Bidahochi Formation; Hemphilliano; Mustelidae; Cernictis; nuova specie
Translator: Chiara Angelone