MATERIAL AND METHODS
Specimens examined in this study are curated at the University of California Museum of Paleontology (UCMP), Burke Museum at the University of Washington in Seattle (UWBM), and the John Day Fossil Beds National Monument (JODA). Specimen identifications and descriptions were facilitated by comparison to collections at the UCMP and UWBM, and literature descriptions and figures. During the fieldwork for this study, the author and colleagues measured sections and systematically collected fossils to document their stratigraphic occurrence.
The general stratigraphic context of the Tieton River area, shown in Figure 2, is based on Swanson (1964, 1978) and Vance et al. (1987). Stratigraphic sections were measured for the Milk Creek tuff and the Wildcat Creek beds where fossils were collected from prior fieldwork (Figure 3).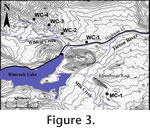 Two additional sections measured along Thunder Creek record the complete sequence of the upper Wildcat Creek beds. Geological hand samples were collected systematically and identified by thin section and x-ray diffraction analyses. Geological descriptions follow White and Houghton (2006) for grain size classifications, Fisher (1961) and Smith (1987) for rock descriptions, and Mack et al. (1993) for paleosol classification.
Specimen measurements were made with Vernier-type dial calipers and are to the nearest 0.1 mm. Dental terminology follows Tedford et al. (1996) for canids, Dawson (1958, 2008) for leporids, Evander (2004) and Prothero and Shubin (1989) for equids, Prothero (2005) for rhinocerotids, Gentry and Hooker (1988), and Loomis (1925) for artiodactyls. Upper dentitions are designated with upper case letters, and lower case letters correspond to lower dentition.
North American Land Mammal Age designations follow Tedford et al. (2004). Taxonomic occurrences in North America were gathered from Janis et al. (1998) and supplemented by Wang (1994), Wang et al. (1999), Tedford et al. (2004), Stevens and Stevens (2007), and Albright et al. (2008). Age estimates of North American fossil localities follow Tedford et al. (2004) and are supplemented by Albright et al. (2008).