Taxonomic diversity of Late Cenozoic Asian and North American ochotonids
(an overview)
Pikas (Ochotonidae) evolved in Asia in the Oligocene and flourished in the Miocene of the Old World. They became less diverse and abundant during the Pliocene. Today, only the genus Ochotona survives. There are 28 living species of Ochotona Asia, one living species in Europe, and two living species in North America.
Ochotonids likely immigrated to North America three times since the Miocene: The genus Oreolagus appeared near the beginning of the Miocene; Ochotona spanglei appeared at the end of the Miocene, beginning of the Pliocene; and Ochotona whartoni and small pikas similar to members of the "Ochotona pusilla group" appeared during the early Pleistocene.
Diversidad taxonómica de los Ochotonidae del Cenozoico superior de Asia y Norteamérica (una visión general)
Los ocotónidos (picas) son un antiguo grupo de mamíferos que apareció en el Oligoceno de Asia y alcanzó su máximo desarrollo en el Mioceno del Viejo Mundo. Durante el Plioceno sufrieron una disminución tanto en diversidad como en abundancia. En la actualidad únicamente subsiste el género pleistoceno Ochotona. Su mayor diversidad específica actual se da en Asia, donde existen 28 especies, mientras que en Europa están representados por una única especie y en Norteamérica por dos.
Probablemente ha habido tres migraciones hacia Norteamérica desde el Mioceno: (1) al principio del Mioceno, representada por la aparición de Oreolagus; (2) en el límite Mioceno-Plioceno, representada por la aparición de Ochotona spanglei, y (3) durante el Pleistoceno inferior, con la aparición de Ochotona whartoni y pequeñas picas cercanas al grupo de Ochotona pusilla. Las actuales especies endémicas norteamericanas aparecieron en el Pleistoceno.
Palabras clave: diversidad en Ochotonidae; Eurasia; Norteamérica; Mioceno-Pleistoceno
Traducción: Miguel Company
Diversité taxonomique des ochotonidés asiatiques et nord-américains du Cénozoïque supérieur (aperçu)
Les ochotonidés (pikas) sont un groupe ancien de mammifères dont l'origine se situe dans l'Oligocène d'Asie et qui étaient très diversifiés au Miocène de l'Ancien Monde. Au cours du Pliocène, leur diversité et leur abondance se sont réduites, avec le seul genre Ochotona survivant du Pléistocène à l'actuel. Leur diversité géographique actuelle se concentre en Asie où 28 espèces vivent de nos jours. En dehors d'Asie, les ochotonidés sont représentés par une espèce actuelle en Europe et deux en Amérique du Nord.
Trois probables phases d'immigrations importantes vers l'Amérique du Nord ont eu lieu depuis le Miocène: (1) au début du Miocène représentée par l'apparition d'Oreolagus; (2) à la limite Miocène-Pliocène représentée par l'apparition d'Ochotona spanglei; et (3) au cours du Pléistocène inférieur avec l'apparition d'Ochotona whartoni et des petits pikas proches du "groupe Ochotona pusilla". Les espèces actuelles endémiques à l'Amérique du Nord apparaissent au Pléistocène.
Mots-Clefs: diversité des ochotonidés, Eurasie, Amérique du Nord, Miocène-Pléistocène
Translator: Loïc Costeur
Taxonomische Diversitäte der spät-känozoischen asiatischen und nord-amerikanischen Ochotoniden (eine Übersicht)
Ochotoniden (Pfeifhasen) sind eine alte Gruppe von Säugetieren, die sich im Oligzän von Asien entwickelten und sich im Miozän in die Alte Welt ausbreiteten. Während des Pliozäns ging sowohl ihre Artenzahl als auch ihre Anzahl zurück, nur die Gattung Ochotona aus dem Pleistozän hat bis in die Gegenwart überlebt. Gegenwärtig ist ihre geographische Verbreitung auf Asien konzentiert, wo sie heute mit 28 Arten vertreten sind. Außerhalb Asiens gibt es eine überlebende Art in Europa und zwei Arten in Nord-Amerika.Höchstwahrscheinlich gab es drei Einwanderungswellen in den nordamerikanischen Raum seit dem Miozän: (1) am Beginn des Miozäns, angezeigt durch das Auftauchen von Oreaolagus; (2) an der Grenze vom Miozän ins Pleistozän, angezeigt durch das Auftauchen von Ochotona spanglei; und (3) während des frühen Pleistozäns mit dem Auftauchen von Ochtona whartoni, und kleinere Pfeifhasen, die der "Ochotona pusilla"-Gruppe nahestanden. Die überlebenden, endemischen nordamerikanischen Arten erscheinen im Pleistozän.
SCHLÜSSELWÖRTER: Diversität der Ochotoniden; Eurasien; Nordamerica; Miozän-Pleistozän
Translator: Anke Konietzka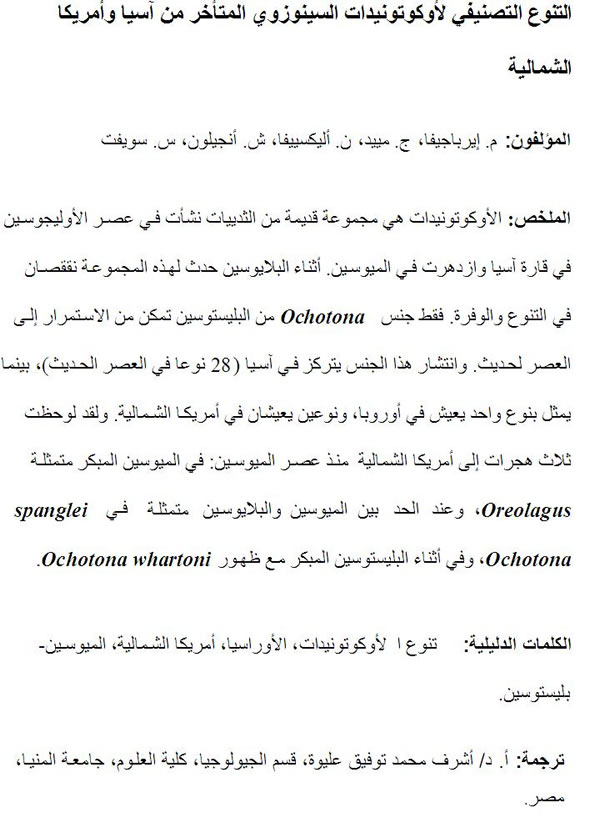 Translator: Ashraf M.T. Elewa
Różnorodność taksonomiczna późnokenozoicznych, azjatyckich i północnoamerykańskich szczekuszkowatych (praca przeglądowa)
Szczekuszkowate to archaiczna grupa ssaków powstała w czasie oligocenu w Azji i bujnie rozwijająca się w miocenie w Starym Świecie. W pliocenie stały się mniej liczne i różnorodne, tylko plejstoceński rodzaj Ochotona przetrwał do dziś. Ich obecne rozprzestrzenienie geograficzne koncentruje się w Azji, skąd znanych jest 28 gatunków. Poza Azją, jeden gatunek żyje w Europie, a dwa – w Ameryce Północnej. Najprawdopodobniej miały miejsce trzy fale imigracji do Ameryki Północnej od czasów miocenu: (1) na początku miocenu, związana z pojawieniem się Oreolagus; (2) na granicy miocenu i pliocenu, pojawienie się Ochotona spanglei; oraz (3) we wczesnym plejstocenie wraz z Ochotona whartoni i krewnymi "grupy Ochotona pusilla". Dziś żyjące, endemiczne gatunki północnoamerykańskie pojawiły się w plejstocenie.
Słowa kluczowe: różnorodność szczekuszkowatych; Eurazja; Ameryka Północna; miocen-plejstocen
Translators: Dawid Mazurek, Robert Bronowicz, and Daniel Madzia
Diversità tassonomica degli ochotonidi del Cenozoico superiore dell'Asia e del Nord America
Gli ochotonidi (pika) sono un gruppo di mammiferi originatosi nell'Oligocene dell'Asia e molto diffuso nel Miocene del Vecchio Mondo. Nel Pliocene gli ochotonidi hanno subito una drastica riduzione sia in termini di diversità che di abbondanza. Solamente il genere Ochotona è sopravvissuto dal Pleistocene ad oggi. Oggigiorno gli ochotonidi sono concentrati in Asia, con 28 specie viventi; sono inoltre presenti in Europa con una sola specie e in Nord America con due. E' molto probabile che a partire dal Miocene ci siano state tre migrazioni di ochotonidi verso il Nord America: (1) all'inizio del Miocene, come testimonia la comparsa di Oreolagus; (2) al passaggio Miocene-Pliocene (comparsa di Ochotona spanglei); (3) durante il Pleistocene inferiore (comparsa di Ochotona whartoni e altri pika di piccola taglia vicini al "gruppo Ochotona pusilla". Nel Pleistocene si assiste alla comparsa di specie endemiche nordamericane.
Parole chiave: diversità degli ochotonidi; Eurasia; Nord America; Miocene-Pleistocene
Translator: Chiara Angelone