GEOLOGICAL AND STRATIGRAPHIC SETTINGS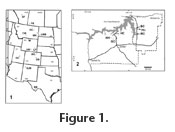 Most of the new material described here was derived from the Garbani Channel deposits, part of the Tullock Formation, exposed in Garfield County, Montana (Archibald 1982, Clemens 2002, Figure 1). A smaller sample described by Van Valen (1978) was derived from another channel deposit in the Tullock Formation exposed at the top of Purgatory Hill, McCone County, Montana. These localities are considered to be approximately contemporaneous and Puercan in age (Clemens 2002, Lofgren et al. 2004).
The Puercan NALMA has been subdivided into three units designated Pu1 through Pu3. Pu2 and Pu3 were initially typified by occurrences of mammals in the San Juan Basin, New Mexico (see Lofgren et al. 2004). Probably because of biogeographic provincialism many of these taxa are not known in local faunas of the northern Western Interior (Montana, North Dakota, Alberta, and Saskatchewan) thus preventing direct biochronological correlations. To reflect this uncertainty the local faunas of the Garbani Channel and approximately contemporaneous sites in the northern Western Interior are designated Pu2/Pu3 undifferentiated (see Clemens 2002, Clemens and Williamson 2005).